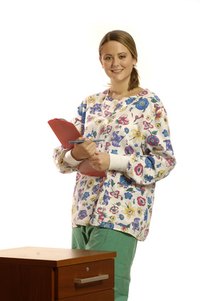 A pediatric nurse is a primary care giver for babies, children and young adults admitted to medical establishments. Her duties range from the provision of palliative care, the execution of laboratory analysis of blood and urine, liaison with and assistance to a pediatrician, surgical assistance, and communication with a patient's relatives. Her salary reflects her experience and can vary depending on a number of elements.
Average Pay
According to Pay Scale, a salary survey website, as of December 2010 the average weekly wage of a pediatric nurse in America was between $774 and $1,207. This equates to an hourly wage of between $19.60 and $29.39. These figures can be augmented by individuals undertaking overtime, which pays considerably more per hour.
Employment
The type of employer for which a pediatric nurse works can substantially impact the weekly wage she achieves. For a pediatric nurse working in a hospital, weekly averages fell between $752 to $1,128. Pediatric nurses who are engaged by private medical practices can expect weekly wages in the region of $454 to $1,467. Private companies offer wages of $567 to $1,288.
Experience
As a pediatric nurse gains more experience in her field (presumably learning more medical and surgical procedures along the way) her weekly salary expectations should rise accordingly. For those with less than a single year's experience in pediatric nursing the average weekly wage is between $750 and $978. These figures rise to between $577 and $1,303 for those who have attained between 5 and 9 years of experience.
Location
The city in which a pediatric nurse is employed has a significant impact on her take-home pay. In California the weekly pay scale for a pediatric nurse extends from $704 to $1,814. In Florida the weekly rate ranges from $597 to $1,106.