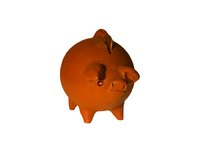 Mutual savings banks and credit unions differ from corporate banks because they are geared exclusively toward protecting their depositors' interests. Mutual savings banks, which are owned by their depositors, are designed primarily to provide a safe place for their depositors to save and invest their money. Credit unions, which are owned and run by their members, are non-profits designed for both savings and loans.
Similar Roots
Both mutual savings banks and credit unions have their roots in charitable impulses to help the working and lower classes manage their assets. Mutual savings banks, started in the United States in 1916, were organized to allow small savers--who at the time were shunned by traditional banks--a place to deposit money and collect interest. Credit unions started in Germany in 1850 and were designed to allow the working classes to pool their assets and loan each other money, thus bypassing loan sharkers who charged outrageous rates. Credit Unions were adopted in the United States in 1909. Both types of institutions thrived during their early years, as the U.S. economy expanded.
Mutual Savings Bank Ownership
Crucial differences in the structure of mutual savings banks and credit unions have resulted in dramatically different fortunes for the two models. Depositors own mutual savings banks; they technically own the institution's assets and a share in its profits, although they are not stockholders or members and they don't have voting rights or influence over how the money is invested. The trustee structure of ownership fostered conservative investments reinforced by state laws that generally permitted only certain types of investments.
Such limited diversification resulted in a mutual bank crisis, starting after World War II, when mutual banks could not compete with the interest rates offered by less restrictive banks. In the 1980s, most mutual savings banks were forced to merge or go through a process called demutualization, converting to commercial banks with shareholders.
Credit Union Ownership
Members of credit unions, on the other hand, democratically control the institutions: They elect members to a volunteer board that runs the day-to-day operations. Unlike mutual savings banks, whose mutual ownership model skews ownership rights toward large deposit holders, a credit union's trustees have equal ownership shares, regardless of how much they have deposited.
This ownership model allowed credit unions to offer competitive interest rates, and they grew steadily throughout their history, even as mutual savings banks began to falter. In 1977, before the mutual savings bank crisis, federal legislation expanded the services credit unions could provide to their members, spurring tremendous growth for the model.
Taxes
Mutual savings banks lost their federal tax exemption in 1951 because Congress found that they had evolved into competitors of commercial banks with little controlling power granted to their depositors and that they were in fact for-profit institutions because they operated for the mutual profit of their owners. Credit unions have preserved their tax protections, arguing that they continue to operate as not-for-profit cooperatives.
Issues Today
Most mutual savings banks that survived the banking crisis of the 1980s are concentrated in the Northeastern states and hold a large portion of their assets in home loans. These banks promote their ability to serve their depositors' interests more effectively than commercial banks, which must answer to their stockholders. But their conservative investment model means they still have problems competing with the interest rates offered by more aggressive, commercial banks; they are widely considered to be a dying model of banking.
Credit unions continue to offer such competitive interest rates and fees that commercial banks have argued that they enjoy unfair advantages and have pushed for credit unions to pay the same federal taxes as for-profit institutions.