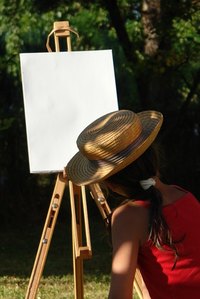 Fine artists create paintings, sculptures, illustrations, sketches and prints for museums, personal collections, galleries, buildings and public spaces. In addition to producing realistic and abstract depictions of landscapes, people, animals and events, fine arts painters teach art classes, conduct educational workshops and own art studios. Although some of these creative professionals are able to make a substantial living off their work, it is common for painters to hold a second or third job to supplement their income. The Bureau of Labor Statistics (BLS) stated that fine artists in the U.S. earned an average annual salary of $50,630 in May 2009.
Location
According to a December 2010 PayScale report, fine arts painters' earnings varied significantly based on the state where they worked. For example, California fine artists reported average earnings ranging between $23,300 and $50,980 a year. Fine arts painters working in Washington earned as little as $17,687 to as much as $59,495 a year. In Michigan, fine artists had the highest salary potential, averaging annual wages of $15,260 to $60,505. On the other hand, painters working in Texas had the lowest earnings potential, with a range of $12,335 to $39,305 a year.
Employer Size
The average earnings for fine artists vary depending on the size of their employer. PayScale stated that painters working in companies that employed fewer than 10 people paid workers average salaries of $12,164 to $40,000 annually. However, fine arts painters working for employers with 10 to 40 workers had average salaries ranging between $21,697 and $44,100 annually.
Time Frame
The time frame a fine arts painter has worked in the field makes a slight difference in income potential, according to PayScale. Painters with less than one year of experience made average salaries ranging between $24,566 and $45,000. However, fine artists who held one to four years of experience reported earning less, with average salaries that fell between $21,975 and $43,745. Fine arts painters with five to nine years of experience earned annual wages that ranged between $14,000 and $45,316. Professionals with 10 to 19 years of work experience earned average annual wages that ranged between $17,687 and $50,421. The most experienced professionals, with at least 20 years of experience, had average annual earnings of $23,981 to $56,000 a year.
Gender
Male fine artists are more likely to earn more than their female counterparts. For instance, PayScale reveals that male painters had average annual earnings ranging between $19,518 and $50,923. In contrast, female painters averaged $14,740 to $42,875 a year.