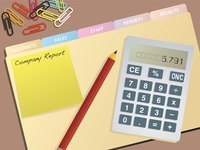 GAAP stands for "Generally Accepted Accounting Principles." These principles are the rules of the road for accountants and bookkeepers. GAAP regulations keep all accountants on the same page with both general and specific rules guiding the use and meaning of numbers in business. These principles also dictate how and when businesses are required to release their financial information to governmental organizations and the public. GAAP has many general policies, and some that are specific only to certain industries.
Reliability
Accountants are required to work with and present valid information. Accountants ensure that their information is valid by only working with numbers that can be verified objectively. Objective verification might include: bills of sale, receipts, processed checks, bank statements and inventory counts. However, accounting can almost never be exact, and there are many times that estimation is required. To ensure reliability, GAAP calls for unbiased estimation, using approved scientific methods performed by an independently qualified individual.
Historical Cost
Historical cost refers to the price at which something was bought or what the buyer paid. It's called "historical cost" because the amount is fixed in history. GAAP requires accountants to record all transactions at historical cost. Historical cost is used because value changes day-to-day and depending on circumstances. For example; an organization buys a copy machine for $250; after a year of use, the machine may only be worth $200, but it's still recoded on the balance sheet as $250 worth of equipment. The historical cost principle is the same in both appreciation and depreciation; the accountant logs the estimated adjustments on the original number while still listing its historical cost.
Revenue Recognition
Revenue is not recognized or recorded until it's physically earned. Future income and projected income are not considered earned income and cannot be officially recorded as earned. To be considered "earned," revenue must come from an affirmed sale of a good or service, it must be a recordable amount, and the buyer must have paid or be expected to pay (as in the case of credit).
Matching
Accountants must match generated revenue with the resources that helped to generate that revenue. For example, a landlord would match rent income with the apartment she earned it from, and a grocery store owner would match the expense of buying a can of soup with the revenue generated from selling the can of soup. The resources used to generate income are called expenses, not costs. It's important to note that a resource bought remains a cost until it's used up in the pursuit of revenue generation, at which point the "cost" becomes an "expense."
Modification
The Federal Accounting Standards Advisory Board (FASAB) establishes and alters GAAP to conform to fairness and changing times. There are certain circumstances where an individual accountant or company may modify GAAP to suit their needs. Such occasions might include times when the information is truly inconsequential or times when complying with GAAP would result in an unnecessarily disastrous outcome.