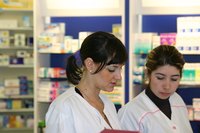 Pharmacy technicians handle patient prescriptions and prepare drugs under the direct supervision of licensed pharmacists. Pharmacy technicians work for independent pharmacies and larger healthcare organizations. There are no formal educational requirements for pharmacy technicians, but most employers require a high school diploma and minimal customer service experience.
Average Salary
The average salary for a pharmacy technician in Indiana was $27,250 per year as of 2009, according to the Bureau of Labor Statistics' annual salary survey. This was below the national average salary for pharmacy technicians at $28,940 per year.
Pay Across Indiana
The pay for pharmacy technicians varies by municipal location within Indiana. As of December 2009, average pay by Indiana location was: Anderson ($25,290), Bloomington ($25,330), Cincinnati-Middletown ($25,580), Columbus ($25,330), Elkhart-Goshen ($25,120), Evansville ($24,850), Fort Wayne ($26,330), Gary ($27,760), Indianapolis-Carmel ($28,420), Kokomo ($24,430), Lafayette ($26,140), Louisville-Jefferson County ($26,480), Michigan City-La Porte ($26,730), Muncie ($24,990), South Bend-Mishawaka ($28,330) and Terre Haute ($25,840).
Top Paying States
The five states with the highest average pay for pharmacy technicians were Alaska ($37,090), California ($36,770), Washington ($36,670), Hawaii ($35,130) and Nevada ($33,960). In the lowest paying state, West Virginia, pharmacy technicians earned $23,760 per year.
Top Paying Employers
The five highest paying employer sectors for pharmacy technicians in Indiana were: the federal executive branch; scientific research and development services; insurance carriers; management of companies and enterprises; and specialty hospitals