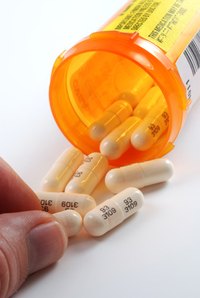 Reported to earn a median annual income of $106,410 per year in 2008 by the Bureau of Labor Statistics, pharmacists are well-compensated professionals, and job prospects continue to look excellent through 2018. Although compensation and occupational outlook are important factors when considering a career, you should also think about job requirements and how they align with your likes and dislikes. Consider the benefits of a career in pharmacy as well as these following drawbacks before jumping in with both feet.
Rigorous Training and Licensing Requirements
If you have your sights set on becoming a pharmacist, prepare yourself for a minimum of six years of post-secondary training. Pharmacists in the United States must hold a Pharm.D degree, which takes four years to complete. Aspiring pharmacists must have completed two years of a bachelor's program along with the required prerequisites for admission into the Pharm.D program, but most complete three or more years of college before applying. After completing their Pharm.D, many pharmacists go on to do additional graduate work in business or public health to become more competitive candidates. In some areas, Pharm.D graduates must complete additional one- to two- year fellowships involving research and training in the practice of pharmacy, especially for positions in clinical settings. According to the Bureau of Labor Statistics, all pharmacists in the United States must take at least two tests before they are licensed to practice – one covering knowledge of pharmacy, and one covering pharmacy law. Other tests may be required, depending on individual state regulations.
Physically and Mentally Demanding
Pharmacists are on their feet for the majority of their shifts and must devote full attention to their work at all times. Paying attention to possible drug interactions and filling prescriptions accurately for patients is a life-and-death business. Furthermore, many pharmacists have to work non-traditional hours, including nights, weekends and holidays. If working regular business hours is important to you, careers in clinics and hospitals won't be among your options as a licensed pharmacist.
Respect Not Equal to Training
Pharmacists are highly trained professionals, but not everyone recognizes that fact, according to "The Observer." Although pharmacists are well-qualified to advise patients about drug interactions and counsel them about health topics like exercise and diet, a few members of the public still view pharmacists as qualified to do little but count pills. Some pharmacists feel frustrated when misinformation keeps them from making the most of their knowledge on the job.
Different Settings Offer Different Advantages and Disadvantages
Not all pharmacy roles are the same, as the website hospitalpharmacy.info points out. For example, pharmacists who work in retail settings interact with the general public often, while clinical pharmacists see less direct patient contact and work closely with doctors and nurses. Whether one of these roles has more disadvantages for you depends on your personality. For example, if you enjoy meeting and talking with different people every day and building relationships with clients, you might not feel fulfilled in a hospital setting. Interview pharmacists who work in different areas or look for volunteer experiences in various settings to decide what kind of environment would suit you best.