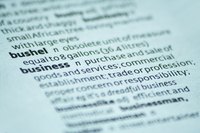 Business ethics focus on the right and wrong of business practices. The topic of ethics is a subjective one that may easily leave both managers and workers mystified. The 2001 fall of corporate giant Enron began the contemporary push to place a greater focus on ethics in the business world. While the implementation of strong ethics is a valuable tool at all levels within an organization, it is possibly most important among members of management. Managers set the tone for the organization and determine its future direction.
History
The study of ethics has taken place throughout the history of world civilizations, from the time of Plato and Socrates. Ethical issues in the business realm have been an issue since the development of commerce. However, the science of ethics in management is a relatively new discipline. This science is commonly believed to have originated from several groundbreaking studies performed by Raymond Baumhart in the 1960s.
Compliance Based Ethics
After Enron, the United States government passed the Sarbanes-Oxley Act (SOX) of 2002. SOX is an excellent illustration of how managers can find themselves forced to engage in compliance-based ethics instead of taking the opportunity to engage in ethical decision making on their own terms. It is far more effective for an organization to act in an ethical manner under the direction of its own managers than by force from the government. When an organization makes ethical decisions on its own terms, it can avoid being forced to make ethical decisions at the behest of another entity.
Ethics and Corporate Culture
Ethics should be integrated within the organization's corporate culture to ensure that the company's espoused culture is aligned with its actual culture. Managers should always strive to lead by example. Dishonest management practices can breed an environment of suspicion in which dishonesty thrives. An organization cannot tell employees that it values honesty and integrity when managers at the highest level engage in dishonest behaviors. Managers must insist on building an everyday ethical culture if they hope to avoid ethical failures long term.
Solutions
Ethical managers insist on ethical interactions with all stakeholders, from employees and shareholders to customers, vendors and the community at large. It's important to implement ethics policies and training on an ongoing basis to ensure that employees at all levels are completely clear on what types of behavior are acceptable in the workplace. Managers should develop comprehensive ethics policies as well as training programs to effectively disseminate the information to employees.