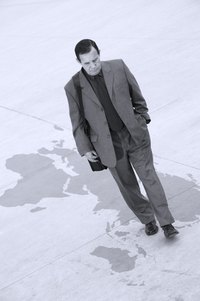 Social graces play an important role in today's international business environment. Understanding business protocol is a vital skill on both a domestic and global level. Proper business etiquette means more than knowing the basics of meeting, greeting, playing a round of golf and working a room. Gracious manners and a savvy professional image are necessary requirements for success. Individuals who are well versed in the art of business etiquette can profit from teaching style and proper protocol to business clients.
Basic Training
If you're interested in consulting in the field of business etiquette, or if you're an established training specialist thinking of adding a professional image module to your existing course selection, begin with the basics. Learn the art of etiquette and protocol from an expert. Consultative firms often offer classes on various aspects of etiquette, from dining to coaching corporate officers on creating the ideal image. Upon completing a comprehensive training program, you can earn a certified designation.
International Training
Each culture has a distinct set of rules that dictate appropriate behavior. Successful corporate leaders and entrepreneurs understand the rules in different countries. Teaching clients the proper ways of operating in a multicultural environment both at home and abroad is a large part of an etiquette consultant's job. If you're interested in cross-cultural training and haven't traveled the world extensively to learn the appropriate protocols, investing in a comprehensive international certified training course is mandatory. Possessing an expertise in cultural differences and training business professionals on the art of breaking thought international communication barriers is a skill that's in demand.
Certification Programs
Programs range in length and price. The International School of Protocol and Etiquette Professionals (ISPEP) offers a Certified Etiquette Professional, or CEP, certification. Students interested in this designation must pass a four-part exam and have three of more years of experience in the etiquette field. The cost of the examination is $950 as of December 2010. The ISPEP also offers two-day live classes, webinars and teleseminars on etiquette and international protocol subjects. Gloria Starr, an etiquette and communication adviser, schedules certification courses that span five days. Tuition is $8,500.
Career Options
Once you've completed the training and earned a certification in business etiquette, it's time to market your expertise. Universities often hire consultants who prepare students for the business world by giving lectures on the nuances of business protocol. Corporations contract with etiquette trainers, who assist expatriates and their families as they assimilate into the culture of foreign countries. Business etiquette counseling helps corporate sales teams as they navigate the global environment. Government agencies also hire specialists in this field.