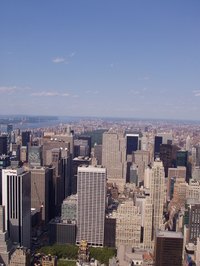 As of 2010, the Federal Housing Authority, or FHA, defines any mortgages in excess of $417,000 as nonconforming or jumbo mortgages. However, in certain high-cost areas of the U.S. and its territories, the FHA regards loans of up to $729,750 as conforming. Definitions of jumbo mortgages vary from county to county, and certain areas of New York State are regarded as high-costs areas where conforming mortgage maximums are higher than average.
Jumbo Mortgage Definitions In New York State
In most New York counties, mortgages in excess of $417,000 are regarded as jumbo loans. However, due to high property prices in and around New York City, conforming limits are up to 125 percent of the national average. The FHA designates jumbo mortgages as loans in excess of $729,750 in the New York City metro area, Queens, the Bronx, Nassau, Putnam, Richmond, Rockland and Westchester. In Orange County and Dutchess County, jumbo mortgages are defined as loans above $443,750. Every other part of the state uses the $417,000 or $729,750 figure.
Qualifying for a Jumbo Loan
People applying for conventional mortgages normally require credit scores of 620 or better. Mortgage lenders often sell loans to government-backed entities Fannie Mae and Freddie Mac. These companies require borrowers to have credit scores in excess of 660 for jumbo mortgages. People wanting to finance more than 75 percent of the purchase price must have scores in excess of 700. Anyone taking out a cash-out refinance must have a credit score above 720 and can only borrow up to 75 percent of the value of the home.
Other Restrictions
Fannie Mae and Freddie Mac impose a maximum debt-to-income, or DTI, ratio of 45 percent on jumbo loans. DTI ratios for conforming loans are often lower, but in theory people with sufficient income to buy homes with jumbo loans have more disposable income than those who don't. People buying second homes or investment property with a jumbo mortgage must make down payments of at least 40 percent. Sellers can make concessions to cover up to 3 percent of the closing costs, whereas on conforming FHA loans, sellers can make concessions of up to 6 percent.
Jumbo Mortgage Problems In New York
Despite the fact that the FHA uses different guidelines for jumbo loans in New York City and its environs, home prices in certain areas still exceed the conforming loan limit. Aside from having to contend with lower loan-to-value ratios and produce bigger down payments, borrowers also have to pay higher interest rates for jumbo loans. Generally, jumbo loan rates are at least 1 1/2 percent higher than conforming rates. Banks charge higher rates because bigger loans expose lenders to greater default risks.