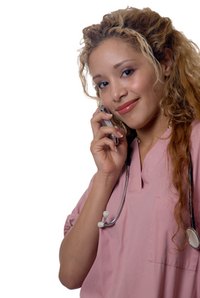 A traveling nurse spends short periods of time at hospitals in different parts of the country. Assignments usually last about 13 weeks in one location before you are moved to your next assignment. The idea of seeing different parts of the country appeals to many nurses, but several factors contribute to the negative side of this career option. Looking at both the pros and cons can help you decide if travel nursing is ideal for you.
Compensation
Travel nursing comes with attractive benefits and compensation. The mean hourly wage for a registered nurse is $31.99 as of May 2009, according to the U.S. Bureau of Labor Statistics. The base pay rate of a traveling nurse is typically higher than a traditional nursing position with the added security of guaranteed hours. Salaries vary depending on the assignment location, experience and specialties, but usually ranges from $30 to $40 per hour, according to PayScale. Traveling nurses also receive compensation for meals, travel costs and incidental expenses. Additional income in the form of bonuses for accepting and completing a specific assignment increase the amount received. Most travel nurse companies offer free housing or a housing allowance. Insurance, retirement programs and other benefits are often part of the package for traveling nurses.
Experience
The traveling nurse position gives you a chance to work with a variety of professionals in your specialty area. You might get the chance to work in a premier health care facility with leading medical professionals.
The experience element also has a drawback for new nurses. Many travel nurse companies require at least a year or two of clinical experience as a condition of employment. Because the assignments are so short, a travel nurse needs to jump right in and start working. You will also likely be stuck working in one specialty area since the facilities may refuse to train you in a new specialty.
Travel
The travel portion of this nursing job comes with both pros and cons. On the upside, traveling nurses see different parts of the country with all travel expenses compensated. The nurses get a chance to experience life in different areas without committing to moving there long term. You aren't stuck working in an environment that is not a perfect fit.
The downside of all the travel is a lack of roots. Moving so frequently leaves you little time to settle in and develop strong relationships. You may end up far from your friends and family possibly leaving you feeling lonely. The short assignments make it difficult to have many belongings with you, which can add to any homesick feelings.
Advancement
Since traveling nurses don't stay in one facility for long, advancement opportunities are limited. Management positions in the nursing field don't work with the short placements. The traveling nurse career gives you plenty of experience to build your resume, but you will likely need to settle down long term in a traditional position if you want to advance to leadership roles.