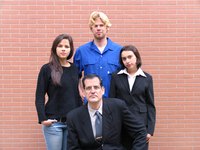 As long as there are students, a tutoring business has the potential to be highly profitable. From elementary students learning basic math to graduate students at medical school, there is a broad spectrum of tutoring options. Salaries vary as well, depending on the skill set involved and the experience of the tutor. A tutoring business can also hire other tutors and create additional revenue from their work.
Basic Wages
The basic salary of a tutoring business can vary widely. If you are the sole proprietor of the tutoring company with no additional tutors, the salary will largely depend on the going rate for the subject in which you are tutoring. According to PayScale, as of 2010, hourly wages for a tutor range from $10.30 to $24.29. The average yearly salary is $21,808 to $50,109.
Specialized Wages
Tutoring subjects vary widely along with the respective wages. The majority of tutoring subjects involve some variant of math or science. Foreign languages are another in-demand subject. The rate charged depends on numerous factors including the tutor's experience, the difficulty of the subject and local wage differences. For example, a college freshman teaching basic math to an elementary school student in a rural setting might not be able to earn much more than minimum wage. At the other end of the spectrum, a college professor tutoring a complicated subject like organic chemistry at an Ivy League university might be able to earn $40 per hour or more. The salary truly varies by the tutor's ability to teach more complex subjects. Recent job ads on sites like Indeed showed calculus tutors earning $60,000 to $70,000 a year.
Test Preparation
Tutors for test preparation are in a league of their own. Well-known tests include the SAT, the GMAT, the GRE, the AP tests and the LSAT. Because high scores on these tests are crucial for students to be accepted into certain colleges, many are willing to pay more for results. Simply Hired reports that Kaplan, one of the largest test tutor companies, pays its tutors $34,000 on average for a part-time job. Many test prep tutoring companies such as TestMasters pay approximately $50 per hour. If you are running your own company, you could charge at least this amount.
Salary With Additional Tutors
Most tutoring companies will hire additional tutors who work as independent contractors. There are also tutoring centers that have a location with additional tutors paid on an hourly basis. The salary for a tutoring business with employees depends completely on the number of tutors and the volume of clients. If you charge your clients $35 an hour and pay your tutor $25 an hour as an independent contractor, you will earn an additional $10 per client per hour.