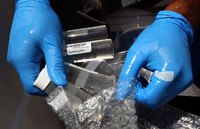 Water quality technicians can be found sampling water in city reservoirs and waste water treatment plants across the country. The technicians assure there are no contaminants in drinking water; they also monitor waste water treatment plants. This career opportunity is expected to grow steadily with the growth in population and the demand for new waste water plants.
Job Duties
A water quality technician samples and analyzes city water and waste water for bacteria and chemicals. He is responsible for minor maintenance of laboratory equipment, writing technical reports, accurate record keeping and possessing a working knowledge of state, federal and local laws that govern water quality. A quality technician works indoors and outdoors, may have to commute to water treatment plants and works with various chemicals and solvents.
Education Requirements
The education required to become a quality water technician is attained through a water quality treatment program certified by the state the technician wants to work in. A certificate can also be pursued at a vocational college for either water quality or water treatment. If vocational certificates are not offered in your state, an associate's degree in science is a beneficial education alternative. A water quality technician cannot work at a treatment plant without a current state certification despite having a college degree.
Average Salary
The starting wage for a water quality technician is $19.16 to $23-95 an hour, according to Biotech Careers. According to the job website SimplyHired, the average water quality technician takes homes $33,000. More experienced and trained water quality technicians can command higher salaries. Managers and executives in the field can earn up to six figures.
Career Outlook
The Bureau of Labor Statistics expects job growth for water and wastewater treatment plant and system operators to increase at an annual rate of 8 percent in the decade up to 2022, about average for job growth. Job prospects are expected to be "excellent," the BLS says.