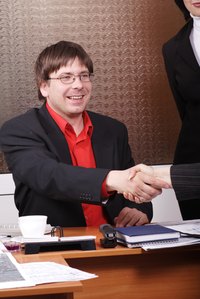 When you are asked to come in for a second interview, it's a good sign that you made a lasting impression during the first interview. The second interview is about building on that impression. The hiring manager, and possibly the team you'd be working with, are interested in knowing whether you are the right fit. The hiring manager wants to see if you are consistent, and he may want to explore your professional past, work style, attitudes and aspirations more deeply. Your job is to move up higher on the short list. You do that by answering questions with depth, sincerity and personality. Be sure your answers to all questions are substantial and cover the question.
Show Your Character and Personality
Second interview answers put your character and personality on display. The second interview is often about fit. You may be meeting with your entire prospective team, each member coming to determine whether they'll like you and whether you can help meet their needs. Practice your answers so that each answer speaks to your professional experience and how you can contribute to the team. Speak in a manner that's down-to-earth and genuine. It helps if your answers are witty and charming too, but not contrived and pretentious.
Show Your Consistency
Second interview answers should be consistent from first interview. If a hiring manager has brought you in for another round, she's probably entertaining the idea of extending a job offer to you. She just has to be sure the impression you made during your first interview wasn't a fluke and that you really are as wonderful as you appeared to be then. Review the notes you made from your first interview. You don't want to just rehash what you said earlier, but build upon those answers. Dig deeper and provide more details. But be sharp. Expect the questions to be restated differently.
Show Your STAR Quality
In each of your answers, apply the STAR model. STAR stands for situation, task, action and results. So when asked a question like "What would you do when you have two assignments due at the same time and not enough time to complete both?" give a situation from the past when you've dealt with such a situation. Tell what actions you took, for example, "Because neither of these tasks could be delegated, I delegated smaller tasks to concentrate on the strategic report during core hours and took my staff members to lunch to conduct reviews." Finish with the results. "Both assignments were completed on time."
Show You're Right for the Job
Your job in every interview is to move your candidacy a step closer to a job offer. This means not only do you answer questions well, but you also ask probing questions and you ask for the job. Ask questions about the office culture, your potential for advancing and the qualities that will make you successful in the position. Toward the end of the interview, probe to find out where you stand and ask what you can do to help the hiring manager make a decision. Remember also, sometimes your body language is speaking louder than you are. If you tend to get nervous, go through exercises, such as deep breathing, meditating or praying, or mind distractions, prior to your interview.