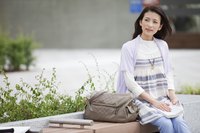 The college admission process can be a daunting task, but being prepared will help you feel more at ease. An interview with an admission officer is a common way for colleges to learn more about prospective students. Some schools even interview applicant finalists to ensure they are admitting the best candidates possible. If you have one of these types of interviews coming up, be sure to prepare a list of questions that will help to highlight your strengths and give you an edge on competitors.
Program/Studies Questions
Smart candidates will have a list of prepared questions that focus on their desired program or major. These types of questions will show the interviewer that you're serious about your studies, according to the College Board. Some of these types of questions include inquiries about the advising system and how many students there are per teacher in freshman-required classes. Other types of program questions may include, "How many undergraduates in this major go on to graduate school?" and "How many classes are led by professors and how many are led by teaching assistants or graduate students?" You may also want to inquire about how many freshmen students returned to the school for their sophomore year, as well as how the grading system works. For example, some large freshman courses only allow a certain amount of earned "As," so if the first 20 students receive a 96 or above on an exam, a 95 would be considered a "B."
Campus Life Questions
Ask the admissions interviewer questions about overall campus life to show that you're serious about living on campus and receiving the full college experience. According to ecampus Tours, some of these types of questions may include, "How does the university match roommates?" and "Are there part-time job opportunities on campus?" You may also want to inquire about campus safety statistics and standard procedures concerning security issues. Ask the interviewer about university-sponsored social activities, as well as the Greek system.
Student Body Questions
Some candidates ask student body questions. This is especially appropriate if you are given the opportunity to meet with current students. Some student body questions include, "How do current students find a good balance between studying, working and fun?" and "What do most students do on the weekends?" If you get to talk to an actual student, ask him about dorm life, the cafeteria food quality and how much help he actually receives from his professors.
Questions to Avoid Asking
Avoid asking questions that can be readily found on the university website. Some of these types of questions may include, "What majors are offered here?" and "How many students attend this school?" Other types of obvious questions, such as "How many libraries are on campus?" will show the interviewer that you did not do your research beforehand. Take these types of questions to the next level. For example, you may want to state, "I saw on your website that the campus has four on-site libraries. Do any of the libraries have sponsored study groups?"