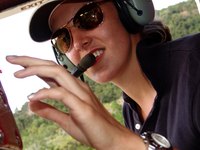 Becoming a pilot requires 17 years of experience, adequate health, time to take lessons and sufficient money. It requires passing not only flying tests, called a "check ride," but also written tests on flight theory and instrumentation. If you are thinking about becoming a commercial jet pilot, it also generally requires a bachelor's degree.
Good Health
Every person seeking a pilot's license must get a medical certificate from an FAA-approved medical examiner. The examiner checks, among other things:sight; hearing; the ear, nose and throat; and blood pressure. Distant vision of 20/40 in each eye, with or without correction, qualifies you for a third-class private pilot's license, for example. For a commercial pilot's license, you must have 20/20 vision, with or without correction. Some conditions, such as bipolar disorder and epilepsy, can disqualify you.
Money
Different flight schools make different promises about how much it costs to become a pilot. There are variables, such as the kind of plane used for training. Some flight training is more expensive per hour than others. Taking ground school classes from an instructor is more costly than reading a training book on your own. According to pilot websites, the cost of a private pilot's license typically is between $6,000 and $10,000, with the cost of a commercial license exceeding $20,000.
Training
Pilots must have training. Student pilots can attend either an FAA-approved or non-FAA program. If a student intends to become a commercial pilot, he should get his initial training through an FAA-approved school. Training for a private license typically requires around 70 hours of flight time. Training for a commercial license requires more than 250 hours, including advanced training in such areas as instrument rating for low-visibility flying. Some colleges and universities have aviation degree programs.
Bachelor's Degree
The U.S. Bureau of Labor Statistics 2010-2011 Occupational Outlook Handbook reports that most people applying for jobs as commercial airline pilots have bachelor's degrees. Consequently, if you don't have one, it makes you easier to weed out from other candidates in this field -- and the field can be crowded.