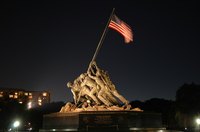 The Marines Corps is one of the branches of the United States armed forces. The Marine Corps is part of the Department of the Navy and is responsible for serving as a combined-arms force capable of seaborne operations. Salaries for Marine Corps members differ based on factors such as base pay, allowances and other pay.
Enlisted Salarie
The base pay for any member of the Marine Corps is based on two factors: number of years of service and pay grade. Enlisted pay grades differ widely, from a low of $1,447 per month for a private (E-1) with less than two years of service to a high of $5,112 per month for the Sergeant Major of the Marine Corps (E-9) with over 18 years of service, according to the Defense Finance and Accounting Service.
Officer and Warrant Officer Salaries
Marine officer and warrant officer base pay also differ based on pay grade and years of service. A second lieutenant (O-1) with less than two years of service makes $2,745 per month, while a major general (O-8) with 18 or more years of service earns $12,121 per month. Warrant officer salaries range from a low of $2,683 for a W-1 with less than two years of service to $5,905 for a W-4 with 18 or more years.
Allowances
Apart from base salary, Marines earn a significant portion of their income from various allowances granted to them, such as housing, subsistence (food) and clothing. For example, all Marines with dependent families receive housing allowances that differ based on pay grade and location. An E-1 with dependents in Ketchikan, Alaska, for example, receives $1,728 per month in basic housing allowance, while the same E-1 posted to Pine Bluff, Arkansas, receives $855 per month.
Other Pay
Marines, like all other service members, also earn additional pay based on their professions or assignments. For example, those Marines serving in hazardous duty earn between $150 per month for an E-1 to $250 per month for an O-6. Also, Marines who are subject to hostile fire or imminent danger earn an additional $225 per month in base pay regardless of pay grade. Those Marines serving as divers earn up to a maximum of $340 in additional monthly pay.