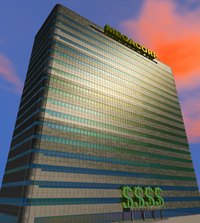 Corporate communicators represent an organization to the media, employees and stakeholder groups. Functions vary by the size of the organization and specific duties will depend on the position of the corporate communicator. An undergraduate degree in journalism, public relations or communications is usually required for corporate communications positions. Some corporate communication management jobs may require an advanced degree. In general, corporate communicators need to write well, think strategically and enjoy working with people.
Media Relations
Representing the organization to the media is a well known duty of a corporate communicator. Specific jobs include drafting press releases, responding to media inquires and pitching stories to journalists. Corporate communicators must also train and work with other corporate spokespersons, which usually includes the CEO, board members or other issue experts, to deliver effective media interviews. Journalists may start seeking information from the corporate communications department, but ultimately, they will want to hear from the individuals at the heart of the story.
Crisis Communications
Effective corporate communicators know that experiencing an organizational crisis is a matter of "when," not "if." Another duty of a corporate communicator is preparing a crisis communication plan. A crisis communication plan identifies a company spokesperson, outlines logistics to handle increased media requests and plans to help any victims or injured parties and treat them with respect and empathy. Although planning starts with corporate communications, an effective plan covers all aspects of the organization from management to entry-level employees. Finally, successful corporate communicators work with management to monitor any potential crisis issues and take action to prevent a crisis or minimize its impact.
Employee Relations and Communications
Corporate communicators also explain organizational messages, usually from management, to all levels of employees. Specific communication tasks can be simple such using email to announce an upcoming company party. Or, messages might be complicated, such the unveiling of a change in allowable sick days, and require persuasive communication techniques and multiple mediums such as drafting a speech for the CEO, newsletter articles or a website question and answer page. Corporate communicators may also be responsible for ensuring employee feedback reaches upper management.
Stakeholder Relations
Representing the organization to stakeholder groups is another duty of corporate communicators. Stakeholders are groups who can be impacted by an organization's actions. Examples include investors, a board of directors, lenders and community groups. Specific duties of a corporate communicator include identifying and crafting organizational messages for each stakeholder groups, drafting and producing an annual report and preparing speeches or presentations for a CEO to use during board meetings or community events.