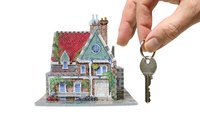 When you find the home of your dreams, you enter into a contract with the owner to purchase the property. This contract, called an offer to purchase, is a formal document that conveys your terms to the seller. As part of this contract, you may give the seller money that symbolizes your commitment to buy the home. If the contract is broken, you may be able to get your earnest money back.
Definition
When you complete an offer to purchase form, you usually attach a sum of money to be given to the seller's attorney, the seller's real estate agent or the seller. This money is held in an interest-bearing account with the interest payable to you and is generally refunded to you at the time of sale.
Contracts
When your offer to purchase is accepted, the offer to purchase usually becomes the basis for a purchase contract. Your earnest money then becomes tied to the provisions of the purchase contract. The purchase contract may contain all provisions of the contract or it may be tied to several other documents, including an insurance provision and details about when and how the title will be conveyed.
Buyer's Non-Completion of Sale
If you back out of the house contract, fail to take reasonable steps to complete the sale or otherwise violate the provisions of the purchase contract, you could lose your earnest money. The exact steps you need to take to retain your earnest money should be spelled out in the purchase contract. You should read this document carefully to ascertain under what conditions you could lose your money. If you do violate any provision of the contract, the seller is entitled to keep your earnest money.
Seller's Non-Completion of Sale
As long as you take reasonable steps to complete the sale, such as applying for a loan and ordering a home inspection, you are entitled to receive the earnest money back from the seller. However, you may encounter a seller who refuses to return your earnest money even though you feel you met all of the provisions of the contract. If this happens, you may have to pursue legal action to get your money back.