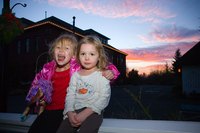 Residents of the state of New York can receive assistance with everyday needs through one of the state's welfare programs. The programs are designed to help families on a temporary basis while they are working to become self-sufficient. The welfare programs are administered through the New York State Office of Temporary and Disability Assistance.
Food Stamp Program
The Food Stamp Program helps low-income residents of New York state with purchasing food. The program is open to elderly and disabled persons. Working and non-working families can also receive benefits through the program. Benefits can be used to purchase food, baby formula and snack foods. Food stamps can also be used to purchase water and seeds that produce food. Benefits cannot be used to purchase prepared foods, alcohol or any substance that is not edible.
Home Energy Assistance Program
The Home Energy Assistance Program, or HEAP, helps low-income families in New York with the cost of heating and cooling a home. The regular HEAP benefit program provides a one-time payment to a qualified family's energy supplier. The amount of assistance that is received is based on the heating source, household size and income. The emergency HEAP benefit program provides assistance to families who are in danger of losing their heating source.
Temporary Assistance
New York's Temporary Assistance program provides financial support to needy families. Families can receive assistance with meeting monthly expenses, job training and child care assistance under the program. Families can receive assistance for up to five years. Single people or couples without children can also receive temporary assistance through the Safety Net Assistance Program. The program provides cash assistance and job training. Benefits are available for up to two years.
Head Start and Early Head Start
Children from low-income families in New York can receive support from the Head Start and Early Head Start program. Pregnant women also receive services under the program. Services provided through the federally-funded program includes health education, literacy activities for children and parent education programs. Families also receive nutrition education, family support services and prenatal services. Children whose families are receiving public assistance may automatically qualify for assistance from the program.