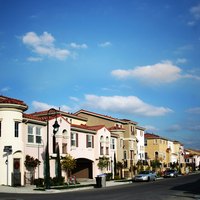 Traditional single-family dwellings need standard homeowners insurance to protect against losses like fire and theft; condominiums need a special condo insurance policy for their particular risks. Townhouses are not as straightforward. In some cases, you will need a certain type of policy for your townhouse. Finding the right policy for your home starts by checking your association's bylaws.
Homeowners Association
Not all townhouse complexes have a homeowners association, but many do. If you are not part of an association, your insurance needs are simple: you should fully protect the entire structure of your home with a standard single-family dwelling homeowners insurance policy. If you do have an association, check its bylaws to see what the master insurance policy covers and what it does not.
Differences From Standard Coverage
If you have a homeowners association, you are not likely responsible for protecting the structure of your home. Townhouse insurance polices tend to be significantly less expensive than standard homeowner's insurance because they do not cover the home's primary structure. Rather, they are designed to protect the contents inside your home and your family's personal liability. If your home is damaged, the association's insurance policy would pay to repair it.
Exterior insurance costs are included in your monthly association dues.
Special Coverages
Each insurer is generally able to construct its own townhouse insurance policy, so special coverages may vary between companies. Check with your agent to make sure that any additions or renovations you make to your home will be covered by your townhouse insurance policy. Though the association's policy may cover these, it is not guaranteed. You might also be covered for any assessments made by your association. For example, if the association must pay a large sum of money for a multiple-unit repair or common-area upgrade, it may bill each homeowner a portion of the cost. Some townhouse policies cover this expense.
Personal Liability
Unlike with condominiums, townhouse owners typically have a yard or property lot for which they are responsible. This means that any injuries that occur inside your home or on your property can expose you to a liability loss. The liability protection on your townhouse insurance policy pays for these types of losses, and usually also for injuries or damage you cause while away from your home -- subject to some exclusions. Even if you don't feel that protecting your belongings inside the home is important, consider townhouse insurance to protect your family's assets from a large liability loss.