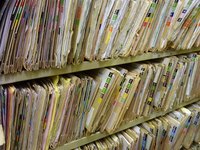 According to a December 2010 survey by Salary.com, the average case manager in the United States earns $67,872. But there are a variety of factors including location and experience that will affect individual case manager's salaries.
Average Case Manager Salary
A case manager is a specialized type of nurse and must be a registered nurse with two to four years of experience before you are qualified. The lowest 10 percent of case managers earn less than $56,650 per year. The highest 10 percent earn over $79,946. The middle 50 percent (from the 25th percentile to the 75th percentile) earn between $61,948 and $74,192.
Home Care
Some case managers work specifically with home care cases and they earn on average earn slightly less than other case managers at $62,718. However, the overall range for home care case managers was very similar to other case managers with the lowest 10 percent earning less than $54,206 and the highest 10 percent earning more than $74,967, with the middle 50 percent earning between $58,224 and $69,129.
Senior Case Manager Salaries
A senior case manager typically has more experience than a regular case manager; i.e. four to six years, compared to a case manager's two to four years. According to a December 2010 Salary.com survey, senior case managers earned $71,695 per year on average. The lowest 10 percent earned less than $60,049 and the highest 10 percent earned more than $88,160, and the middle 50 percent earned between $65,547 and $80,313.
Experience
Those with one to four years of experience earned from $51,141 to $66,278 while case managers with five to nine years of experience earned from $52,957 to $66,428. Those with 10 to 19 years experience earned from $55,217 to $70,211, and those with more than 20 years of experience earned from $59,640 to $75,876.
Salary By Location
Another December 2010 survey by Payscale shows the variation in salary based on location. The highest paid location was in New York City with a range from $66,565 to $86,520. Pittsburgh registered the lowest salary range in the survey at $54,752 to $62,254. Other cities of note were Chicago at $61,935 to $76,996; Dallas which ranged from $58,365 to $67,917; and Atlanta which had a salary range for nurse case managers of $60,385 to $69,612.