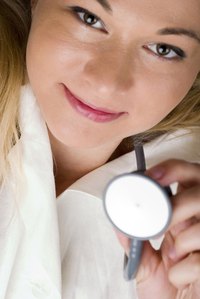 For many who choose to earn medical degrees, the most obvious career path is becoming a practicing physician in a hospital, private practice or both. Some doctors, however, choose to use their medical degrees in non-clinical settings, perhaps because they wish to work fewer hours or avoid some of the issues that go along with patient care. The good news is there are a number of career opportunities for doctors outside of patient care — some of them even more lucrative than practicing medicine.
Education
Doctors need to be taught how to practice medicine, and most medical schools employ physicians as professors and instructors. While you may need some experience treating patients before you can take this route, it can still be a satisfying career to help train future doctors. Even if you do not teach at the university level, having a medical degree will be useful for landing a job teaching at the middle or secondary school levels.
Insurance and Hospital Administration
Insurance companies and health management organizations employ physicians of all specialties to help manage health plans. Most health insurance companies employ physicians to help review customer claims as well as determine the medical care the companies should cover. Insurance company medical directors usually ensure that the company and its policies comply with governmental regulations. Other carriers hire doctors to help determine reimbursement rates for services. Many hospital administrators were also practicing physicians at one point; physicians can become CEOs, presidents or managers of hospitals and healthcare organizations.
Public Health
Non-practicing physicians can also seek positions in the public health sector. In addition to national organizations like the FDA and the CDC, most state governments have public health departments, usually run by a physician. These departments help handle emergency responses and address health issues within states and communities. Physicians often fill regulatory and compliance roles for both the government and individual companies. For example, pharmaceutical companies often have physicians on staff to prepare reports for new products being submitted for market approval.
Writing and Research
The research and communication sectors are also viable options for doctors who do not want to work directly with patients. Many medical journals, magazines and news outlets look for authoritative and knowledgeable voices to cover medical news and studies. Universities and pharmaceutical, biochemical and medical research companies also employ physicians to work on research projects, such as new drugs and treatments. Some physicians have also built lucrative careers serving as expert witnesses in court cases.