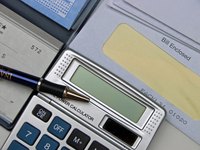 Microsoft Excel offers several built-in templates and many more you can download from the Internet. Checkbook registers are not included in the built-in set, but you can download a few different options from the Microsoft Office website. As long as you enter your data correctly, these templates will automatically add your deposits and subtract your withdrawals, eliminating math errors and providing you with an instant balance every time you make an entry.
Finding Templates
Launch Excel and click the "File" tab and the "New" option to find templates. Enter "checkbook" in the search box and click the button that will search online. You can also go directly to the Microsoft Office website and search for templates without first launching Excel. The site offers a variety of styles for Excel 2007 and newer versions, which you can locate by entering "Check" into the search box. Note that as of December 2010, there is only one check register template for Excel 2003. Look below the template thumbnail to see the program with which the template works.
Template Features
Your ideal template depends on the features you want from your Excel checkbook register. Some templates automatically create charts that help you track how you spend your money, while others closely mimic paper registers. Choose one that will be easy for you to use. If your computer is slow, choose one with minimal graphics so it loads faster. You may also find a template that integrates with personal budget spreadsheets, which can be useful if you want to track where you spend your money.
Considerations
Not all templates lock the formula cells. This means you can accidentally erase the programming that automatically calculates your balance. Save and back up your Excel check register daily, just in case you delete the formulas and need to re-enter data. You can also lock the formula cells yourself to avoid accidents by using the "Lock Cell" feature under "Format" on the "Home" tab in Excel 2007 and 2010.
Versatility
Keeping your check register in Excel can allow you access to your check register from a variety of devices. If you store your checkbook file in a secure online location, such as a cloud computing service, and you can access it from your smartphone or other Internet-enabled devices. You may need a third-party application to read and edit Excel files from your other devices, but using your checkbook this way means you can update it as soon as you buy something so you never miss recording a transaction.