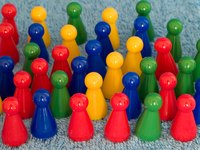 If you are managing a team of workers, there will be a constant need to get its members to develop as individuals and as a team. Some activities help people increase their ability to work with others, such as building assertive communication skills. Other activities offer a chance to motivate the team to perform as a unit.
Employee Motivation
Motivation is something that managers must continually monitor in individuals. Although individuals might be motivated to perform their own jobs, they might not be motivated to contribute to a team. A manager must make the team a priority by appealing to factors that motivate each member of the team. He has to find ways to get employees to buy into team goals. This process might begin with tangible and intangible rewards to motivate employees. Over time, as employees become part of a high-functioning team, they will enjoy belonging to the team so much that external rewards will become less important.
Diversity
Developing a team also requires individuals to move past their own stereotypes and preconceptions about others. These might be related to age, sexual orientation, disability, job title, education, gender, ethnic/racial background, religion and other personal characteristics. A manager begins developing a team by making it clear that diversity is the key to the team's success. She models appropriate communication. Employees quickly learn what kinds of communication are acceptable in the team work environment. Some team-building activities such as outdoor ropes courses can facilitate open communication on the team.
Common Goals in Virtual Teams
Sometimes managers also lead virtual teams, or teams in an office with a few virtual team members in other locations. It is challenging to get a virtual team to establish common goals; it is connected by technology, such as email, the Internet and telephones. A manager rises to the challenge by devoting time and money to a face-to-face meeting of teammates where they can establish shared goals and values. In the future, a virtual team uses video chatting, simulated virtual worlds and other applications to continue team building.
Accountability
In developing a team, a manager also has to create accountability mechanisms. The team can become more motivated to work toward common goals and increase its effectiveness. When it comes time to measure performance, the team must be held accountable for its assigned tasks. A manager can approach this problem by assigning the tasks to the team and letting it assign tasks to members. Next, the manager or team chooses to hold individuals accountable for their contributions of respective tasks or for contributions as a group.