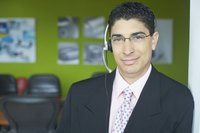 Providing your customers with an exceptional experience can generate repeat business, improve word-of-mouth referrals and increase your bottom line. Involve your staffers in crafting a comprehensive service delivery plan; their buy-in and participation will make them more invested in the success of your business and the satisfaction of your customers.
Hire the right people and pay them competitive wages. Develop detailed job descriptions and screen the job candidates for the skills and knowledge necessary to deliver high-quality customer care. Staffers who work with customers should be personable, patient and knowledgeable about your company's products, services and policies.
Provide personalized service. Learn customer names and preferences so customers feel acknowledged, valued and appreciated. Follow up after sales to confirm customers are satisfied with your service and have no complaints about your company. If there's ever a problem, fix it quickly and efficiently.
Do more than necessary. Don't provide baseline service -- go above-and-beyond. Avoid nickel-and-diming customers or making them navigate long lines or phone prompts to connect with an employee. Consistently meet deadlines and delivery dates and apologize when something goes awry. Honor advertised deals and specials without creating loopholes so redemption is easy for customers.
Train employees. Provide ongoing training for staffers in best practices in the customer service arena. Use role-playing, mentoring, job shadowing or cross-training to help staffers be the best they can be in their positions. Develop an internal recognition program to salute employees who use innovative approaches to providing high-quality service levels.
Empower employees to make decisions. Customer service levels improve when staffers don't have to go through multiple channels to get approvals for discounts, returns or rain checks. Give employees free rein to make basic calls regarding frequent customer issues that arise in your business.
Do the work so customers don't have to. Provide full-service service levels so customers feel cared for. For example, rather than tell a customer to find a product on aisle three, the staffer should accompany the customer to the product. Avoid giving a customer a phone number to check order status; instead, have your service representative track the order.
Ask for customer feedback. Encourage customers to share their experiences in surveys, focus groups and online customer service comment forms. This shows customers you value their input and use it to take proactive steps to improve service levels.
Check your service often. Pose as a customer in your own business for a first-hand look at service levels. Call your office, navigate your website or employ mystery shoppers to evaluate staffers on service approaches. If you find levels lacking, improve them immediately.