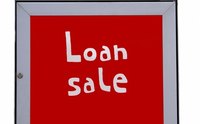 A commercial lender loans money to businesses or agricultural entities. The commercial lender may extend revolving credit lines to augment working capital as needed by the client. Loans may have a specific term. Loan facilities may be offered at a variable or fixed rate of interest. Small businesses don't usually have access to the capital markets. Financial institutions, such as banks and credit unions, provide financing that small companies need to thrive.
Operating Cash Flow
Commercial lenders often focus on the client's cash flow and creditworthiness before evaluating collateral assets. Cash flow is considered a growth indicator. When the client company demonstrates reliable cash flow over two or more years, the lender evaluates the client's ability to repay the requested loan.
Operating cash flow provides a quick test to the lender. If cash flow from operations divided by liabilities is greater than 1, the company probably generates sufficient cash flow to cover loan repayment expenses. Cash flow from operations reflects the client's audited earnings less non-cash items and working capital adjustments.
Client-Lender Relationship
Cash equivalents or collateral assets are usually secondary to the commercial lender. The commercial lender probes financial statements and assesses business stability as he builds the client's financial profile. Commercial lenders may offer better terms and lower interest rates to clients than asset-based lenders. Successful commercial loan relationships include excellent banker-client communication. The client advises the lender about business changes or short-term cash flow declines.
Commercial Loans For Entrepreneurs
Sluggish economic environments frustrate high-growth companies. When fast-track companies can't sell stock or bonds into the public markets, commercial loans provide needed funds. Commercial lenders evaluate five key elements to make a loan, according to authors J. Chris Leich and Ronald W. Melicher of "Entrepreneurial Finance."
The lending officer first looks for capacity: The lender wants to know how the company plans to repay the loan. Capital and cash flow necessarily concern the lender. Collateral may involve the pledge of company assets. The commercial lender may require a guarantee of the loan. Another company or individual guarantees to repay the loan if the client can't. Conditions of the loan concern the lender. General working capital loans may not interest the lender as much as funds needed for capital equipment. Finally, character counts. The lender's impression of a client adds or subtracts from his ability to get a loan. Education, employees' and personal business experience, and references help the lender evaluate a growing business.
Commercial Credit Access
Developing and then safeguarding the business's access to commercial credit concerns each small-business owner. Future growth of the company often depends on access to loans. A poor financial rating or failure to communicate with the lender may result in a decreased line of credit or closure of the credit facility. All businesses have cash flow peaks and valleys. A client shouldn't ask for credit based upon peak cash flow even if the lender extends generous terms.