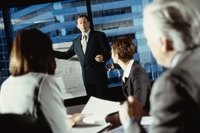 A look at the companies that spend the most money on advertising clearly illustrates a fact that marketers have long understood: Advertising is as much about holding onto market share as it is about capturing it. The biggest advertisers tend to be the biggest names in their industries. Their brands are household names -- and their advertising is aimed at keeping them that way.
Companies vs. Brands
In identifying which companies wield the biggest advertising budgets, keep in mind the distinction between companies and brands. For example, Procter & Gamble has long been among the top advertisers both in the United States and worldwide. And yet you almost never see an ad for "Procter & Gamble." Instead, you see ads for Tide, Scope, Crest, Head & Shoulders, Cover Girl, Cascade, Duracell and dozens of other brands made by P&G. Similarly, Dutch-based conglomerate Unilever is one of the world's top advertisers, but its ads don't promote "Unilever," but rather such brands as Axe, Dover, Q-Tips, Popsicles and I Can't Believe It's Not Butter.
Top U.S. Advertisers
Several outlets track ad spending by company, including "Advertising Age" magazine and Kantar Media. Although their figures can vary based on how they collect data and how they define marketing, they're usually pretty close to each other. In 2013, the most recent full year for which data were available at the time of publication, Kantar reported that Procter & Gamble was the top advertiser in the United States, followed by General Motors (automobiles), AT&T (telecom services), Comcast (telecom), L'Oreal (personal care products), Toyota (automobiles), Berkshire Hathaway (conglomerate), Verizon (telecom), Pfizer (pharmaceuticals) and Time Warner (media).
Top Global Advertisers
In its 2014 annual report on marketing data and trends, "Advertising Age" reported that Procter & Gamble was by far the largest advertiser worldwide, with Unilever in second place. L'Oreal was third, followed by Toyota, General Motors, Coca-Cola (beverages), Nestle (food), Volkswagen (automobiles), McDonald's (restaurants) and PepsiCo (beverages and snack foods). The global list was based on data from 2012, the most recent full year available at the time the report was compiled.
Top Industries
Kantar Media reports that for 2013, retailers were the single biggest category of advertisers; this includes all retailers, from national giants such as Walmart and Target, down to small local stores. Automotive advertising was next; about 60 percent of auto advertising was paid for by manufacturers, and about 40 percent by dealers. The rest of the top 10 industries: telecommunications services; local services; financial services, excluding insurance; personal care products; food and candy; restaurants; direct-response, such as "infomercial" producers; and insurance.