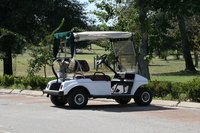 Each state across the United States has authority to regulate insurance requirements for motor vehicles and the privilege of operating vehicles. Regulations differ from state to state, but one thing is likely to remain the same--wherever a motor vehicle is operated, the owner and driver have financial responsibility for the vehicle and its operation. A golf cart is a motorized vehicle, and insurance coverage may be mandatory.
A Common Misconception
Many people assume that if they operate a golf cart on private property they do not have to carry insurance. The fact is that any motor vehicle can be involved in a collision or other mishap. Property can be damaged; injury can occur. Whether the golf cart is operated at a private home, within a gated community, on a public or private golf course, or on designated street-legal golf cart lanes of public streets, risk exists. Insurance coverage can offset the financial risk.
Why Insurance Is Required
Arizona provides an example of mandatory golf cart insurance. The state requires that every motor vehicle on Arizona roads, including golf carts, must be covered by liability insurance. In simplest terms, liability insurance provides for financial responsibility. In Arizona, the issuing insurance company must also be licensed in the state. At the very least, as of 2010, financial responsibility must be covered to $15,000 bodily injury liability for one person, $30,000 for two or more people and $10,000 in property damage liability.
Consequences on Non-Insurance
At any traffic stop or accident scene, a law enforcement officer asks for proof of insurance. If the driver has no proof of insurance, or if a subsequent inquiry to the motor vehicle regulatory department reveals that insurance has been cancelled, not renewed or is otherwise invalid, the vehicle registration and the driver's license can be suspended. Reinstatement can take time and can be costly.
Types of Golf Cart Insurance
The types of insurance coverage that are available for golf carts are similar to insurance for any motor vehicle.
Liability insurance for bodily injury and property damage protects people who ride in the cart and those who could be injured by the cart. The insurance is designed to cover medical and other injury related bills to the limits of the coverage.
Comprehensive insurance is coverage for the golf cart if non-collision-related damage occurs. An example of a comprehensive claim would be if the house where the cart is garaged gets flooded such that the cart is damaged by flood waters.
If a golf cart collides with a vehicle or other object, collision coverage would pay for the damage to the golf cart up to the plan limits.
Other insurance types include medical payments, coverage for a trailer without a motor used to transport the golf cart, coverage in the event of accident involving an underinsured or uninsured driver, and roadside assistance coverage. Insurance is even available to cover extras added to the cart, such as custom equipment.