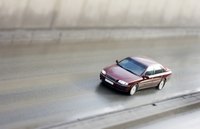 If you've relinquished ownership of a vehicle, you probably think that carrying car insurance is a needless expense. However, there may be situations when continuing to carry insurance can make sense, especially if you continue to drive. Fortunately, there is a type of car insurance specifically designed for drivers who plan to do without a vehicle of their own.
Need
Even if you don't own a vehicle, there are still plenty of good reasons to have car insurance if you plan on driving at all. When you borrow someone else's vehicle, the owner's insurance will cover you. However, the owner's coverage may be inadequate if you are at fault in an accident. Your own insurance can provide the additional coverage you may need. If you plan to rent vehicles frequently, having your own policy may be less expensive than repeatedly buying liability coverage from the rental company.
Type
To obtain coverage without a vehicle, you will need to purchase a non-owner policy. You will not be insuring a specific vehicle with a non-owner policy. However, you will have transferable liability coverage, which protects you if you are at fault in an accident while driving a vehicle you do not own. Because non-owner policies offer liability protection only, they are typically less expensive than a "full coverage" policy. You can purchase a non-owner policy from virtually any auto insurance carrier.
Considerations
Even if you carry a non-owner policy, there are still situations where you may need to purchase additional insurance. When renting a car, for example, your non-owner's liability coverage will extend to the rental. However, you will need to purchase the rental company's physical damage coverage to protect against damage to the rental vehicle. Otherwise, you may have to pay for all damages out of your own pocket.
Getting a Car
When it finally comes time to get a new vehicle again, having a non-owner policy can prove beneficial. To receive an insurer's best rate, you will need to show proof of continuous liability coverage for a specific time period prior to getting a new policy. A non-owner policy will fulfill this requirement, saving you a great deal of money on your new policy. Without it, the insurer will consider you as having a lapse in coverage and will likely offer you only substandard rates.