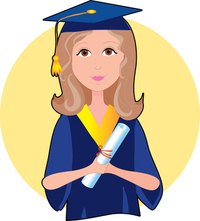 A Bachelor of Science in Business Administration degree is an undergraduate degree that encompasses an Arts and Science core as well as specialized courses focused specifically on business-related coursework. Many schools offer bachelor's degrees in business; however, not all programs are accredited. With a Bachelor of Science in Business Administration degree, you may branch out into a wide variety of career options, or become even more specialized by entering into a master's program.
Curriculum
A Bachelor of Science in Business Administration program is designed to give students a general knowledge of the operation and management of a business. Undergraduate students majoring in business must take core requirements, such as math, science, English and history courses, as well as classes focused on communication skills, economics, ethics and management. Business students may choose to further focus their skills on a specialization, such as accounting, finance, entrepreneurship, economics, human resources, marketing, management or business law.
Accreditation
The Association to Advance Collegiate Schools of Business (AACSB) is the most widely recognized accreditation program for business schools. Schools must pass a rigorous set of standards to be awarded accreditation. The standards focus on the school's mission, operations, faculty, contributions and programs. The AACSB accreditation program began three years after its establishment in 1916. As of December 2010, 608 schools in 38 countries hold accreditation from the AACSB. (See References 3 and 4)
Top Schools
U.S. News and World Report ranks colleges each year. In 2010, the top-five bachelor's programs in business were the University of Pennsylvania, Massachusetts Institute of Technology, University of California --Berkeley, University of Michigan--Ann Arbor and New York University.
Careers
If you graduate with a Bachelor's of Science in Business Administration, you may go into a wide range of different fields based on your specialization. Career paths include but are not limited to human resource generalist or manager, financial controller, operations manager, project manager, accountant, lawyer and economist. Many graduates of undergraduate business administration programs go on to earn a Master's of Business Administration degree to further develop their skills in a specific specialization.