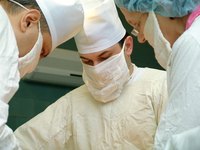 Neurosurgery is the field brain surgeons work in because the brain is a major part of the nervous system. They examine patients to diagnose disease and injury to the brain, then use operative measures to correct these conditions. Neurosurgeons earn an annual salary that is "among the highest," according to the Bureau of Labor Statistics, one that is increased by yearly bonuses and commission.
Annual Income Range
In 2010, neurosurgeons reported a wide earning range, between $156,000 and $460,000 a year, according to PayScale, based on reports from 419 respondents. Their incomes include bonuses of as little as $5,000 and as much as $41,000 a year. Profit sharing can add as much as $44,000 a year, and commission can add as much as $59,000 to a surgeon's annual salary.
Income Based on Experience
The more experience a neurosurgeon has in his career field, the more income he can generate. Surgeons with less than a year of experience report earning as much as $265,000 a year, while surgeons who have been practicing for five to nine years report earning $415,000 a year. Surgeons who have been practicing for 20 years or longer report earnings as high as $508,000 a year.
Education and Experience
Neurosurgeons dedicate a great deal of time to learning about their profession. High school is followed by four years of undergraduate study and four years of medical school, according to the U.S. Bureau of Labor Statistics. After medical school, surgeons spend three to eight years working under another surgeon during a paid residency before he can work on his own.
Job Prospects
As a whole, employment expectations for surgeons and physicians are expected to grow by 22 percent until the year 2018, says the U.S. Bureau of Labor Statistics. The current population is aging, and statistics have proven older people need surgery more often than young people do. Opportunities will be greatest in rural, under-served areas.