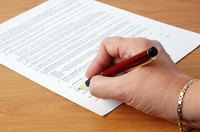 State law governs contracts for sales of goods, and state law may vary. However, most states have embraced some form of the Uniform Commercial Code to govern sales of goods. UCC Article 2 grants a number of remedies for a seller depending on the nature of the buyer's breach and the extent of damage to the seller. However, those with questions about a specific sales contract should contact an attorney.
UCC Breach
UCC Sections 2-703 through 2-710 come into play when a buyer and seller have a contract for sale of goods and the buyer breaches that contract. The breach can take many forms under Section 2-703; the buyer may wrongfully refuse to accept the goods upon delivery, he may fail to pay any amount due, he may fail to perform some other requirement under the sales contract, or he may accept goods and then later wrongfully revoke his acceptance. If the buyer commits any of these actions without an adequate defense at law, then the seller may take advantage of one or more of the remedies in UCC Sections 2-703 through 2-710, unless the sales contract itself stipulates that these UCC remedies do not govern.
Extent of Breach
If the buyer only commits breach of the contract with respect to some of the goods at issue (for instance, if the buyer rejects only one shipment of goods in a contract governing multiple shipments), then the UCC seller remedies will only apply to that portion of the contract. However, sometimes a buyer's action is so serious and far-reaching as to constitute a breach of the entire contract. In such a case, the remedies granted to the seller will apply to the entire contract.
Basic Seller Remedies
When a buyer breaches a sales contract, UCC Section 2-703 allows a seller to refuse to deliver the goods or to cancel the contract. If the goods are already in delivery, Section 2-705 allows the seller to instruct the carrier to withhold the goods until the buyer makes payment. Section 2-708 grants the seller the right to sue the buyer for damages resulting from the buyer's breach. If the seller can prove that he would have made a profit from another sale while he was working on the buyer's sale, sometimes he can also get back the profits lost from the theoretical other sale.
Resale
When the buyer breachers, Section 2-706 gives the seller the right to re-sell the buyer's goods in order to recoup some of his loss. If the sale is private (meaning, to another private customer) then the seller must give the buyer notice that he intends to re-sell the goods. However, if the seller conducts a public sale for the items, then th seller must typically give the buyer notice of the sale time and place. In a public sale, the seller can also choose to buy the goods himself.