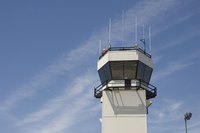 Although traditional wisdom dictates that a college degree is needed in order to secure a job that pays well, there are career fields in which you can find employment with minimal training beyond a high school diploma. These jobs might be ideal for recent high school graduates who don't wish to pursue postsecondary education, or for career changers who don't want to spend a lot of money or time on a degree.
Air Traffic Controllers
The job of an air traffic controller is to help ensure the safe departure and arrival of planes at airports and guide planes through airspace, notes the U.S. Bureau of Labor Statistics, or BLS. There are several paths to gaining employment as an air traffic controller. Without a college degree, an applicant must have at least three years of "progressively responsible full-time work experience" and successfully pass a computer-based Federal Aviation Administration (FAA) test that demonstrates a candidate's ability to learn the duties of an air traffic controller in a 12-week training program. As of May 2008, air traffic controllers earned a median annual wage of $111,870.
Elevator Installers and Repairers
The BLS states that job prospects for elevator installers and repairers is expected to be "excellent" through the year 2018. This is because elevators need regular maintenance, and many existing elevators are being updated with new equipment and controls. In addition, as the U.S. population ages, more elevators are being installed in homes. Most elevator technicians learn the trade through a four-year apprenticeship program after finishing high school. They can then earn certifications and attend continuing education classes to stay abreast of new developments in the industry. In May of 2008, the average hourly wage for an elevator installer or repairer was $33.35, according to the BLS.
Truck Drivers and Driver/Sales Workers
Many of the goods used in the United States are transported by truck. Long-haul truck drivers transport cargo across state lines or cross-country. Light truck drivers typically deliver packages and goods within a smaller geographic radius. Other truck drivers might carry hazardous materials, and driver/sales workers both deliver products to places such as grocery stores and encourage managers to order additional items. A driver training course prepares prospective drivers to take the test for a commercial driver's license, or CDL. After earning the license, employers might offer additional on-the-job training. The median annual hourly wage for long-haul drivers in May 2008 was $17.92; for light drivers it was $13.27. Driver/sales workers earned an average of $10.70 per hour in May 2008.
Court Reporters
Court reporting -- that is, providing transcripts of hearings, trials and other events -- is a fast-growing profession, according to the BLS. Through the year 2018, employment is expected to grow by about 18 percent, which is faster than for other professions. This job growth is spurred by increasing numbers of court cases, both civil and criminal. In addition, there is a growing need to provide captioning services for deaf and hard-of-hearing individuals. Court reporters need at least one year of postsecondary training in order to gain entry-level employment. The median annual wage for court reporters in May 2008 was $49,710.