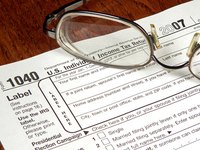 Taxpayers who work from home may be self-employed, independent contractors or employees of a business working through their company's telecommuting arrangements. Employers in the last category pay taxes through employer paycheck withholdings and pay additional taxes for under reporting or obtain refunds for overpaying at the end of the tax year using their W-2 form. Self-employed and independent contractors file taxes differently. These individuals are subject to the IRS' self-employment or independent contractor taxation rules.
Self-Employed Taxpayers and Independent Contractors
Self-employed taxpayers are sole proprietors or own their own businesses under another business formality or entity. These individuals may also have another full-time job but supplement their incomes with part-time self-employment income. Independent contractors have the discretion to choose the types of work they perform and how they perform their work. Their paying clients are only able to choose to accept their work-product but not dictate the daily activities. Typical independent contractors include attorneys, free-lance writers and auctioneers.
Forms W-9 and 1099-MISC for Independent Contractors
Independent contractors must first complete a Form W-9--Request for Taxpayer Identification Number and Certification. Independent contractors should retain their W-9 Certification for four tax years. The taxpayer's identification number can be the taxpayer's social security number or employer identification number. Clients paying for the independent contractor's services use Form 1099-MISC to report the total amount of their payments for the taxpayer's services. Independent contractors that hire other taxpayers must understand their own tax liabilities and filing responsibilities.
Schedule C and Form 1040 for Sole Proprietors (and forms 1065 for Other Business Entities)
Self-employed taxpayers use Schedule C attached to their 1040 tax returns to report income or losses during the tax year. Self-employed taxpayers must pay self-employment taxes for Medicare and Social Security.
Estimated Tax Payments
Some independent contractors and sole proprietors may have to make estimated tax payments for income that would have been withheld by an employer. Estimated tax payments cover income and self-employment taxes. Taxpayers who were required to pay estimated taxes but failed to do so may be subject to an IRS penalty. Generally, taxpayers who owed taxes for their 2009 tax returns should pay their estimated taxes. The IRS recommends taxpayers to pay estimated taxes if they will owe more than a $1,000 tax liability for 2010. Estimated taxes are paid in quarterly increments based upon expected taxable income amounts after deductions and credits. Taxpayers need to use the "Estimated Payment Voucher" or use the IRS electronic payment system.