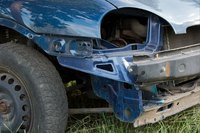 If you have an older vehicle that is not financed, one way to lower your auto insurance premium is by dropping physical damage insurance. Physical damage coverage consists of collision and comprehensive, which are typically purchased together to provide what is referred to as "full coverage" for your vehicle. There are several factors you should consider before deciding to drop collision protection.
Identification
Collision pays to repair your vehicle after a covered accident. Collision coverage includes a deductible, which is the amount you pay out of your pocket before your insurer will begin to pay. If your vehicle is beyond repair, your insurer will "total" the vehicle and pay you what it deems to be the vehicle's actual cash value. Collision does not pay for non-accident-related losses like chipped windshield glass or vehicle theft and vandalism, as these are paid under your comprehensive coverage.
Considerations
Comprehensive and collision coverage can be expensive. In many cases, they make up close to 50 percent of your total premium. Dropping collision is one way to help you lower your premium, but doing so may come with risk. If your vehicle is totaled, you'll receive no compensation from your insurance company and you may not have the resources to purchase a new vehicle. You also may not have the money to make repairs that can keep your vehicle on the road.
Insurance Cost vs. Vehicle Value
As your vehicle ages, it tends to lose its value, meaning you'll receive less from your insurance company if the vehicle is damaged or totaled. If you are paying $1,000 a year for physical damage coverage and your vehicle's "blue book" value is only $5,000, carrying the coverage may not be worth the cost. As a rule of thumb, if your physical damage premium is greater than 10 percent of your car's value, you should consider dropping collision as well as comprehensive. Another option is to raise your deductibles to lower the premium.
Obligation to Lienholder
One situation where you will probably have no choice but to keep collision on your vehicle is when you still owe money on it. When you finance a vehicle, the bank or other lending institution has a legal interest, or lien, in the vehicle. This gives the lender the right to require you to keep collision on the vehicle until it is paid off. You also will have little flexibility as to how high you can raise your deductible.