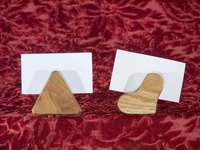 Your business card is a concise, portable networking tool. You can put whatever information you want on your business card. On the one hand, this freedom expands your horizons, enabling you to choose virtually any message for your business card. On the other hand, the myriad possibilities can make it difficult to determine whether you're choosing precisely the right message.
Contact Information
First and foremost, your business card should contain your contact information. Include your name, as well as a phone number where prospective clients and contacts can reach you. Also put a mailing address, email address and website address on your business card. If your business card contains more than one phone number, email, or mailing address, specify the purpose of each one, such as home or office.
Title
Your business address should contain your title or job description. If you are self-employed, you can simply write "owner," but it's worth using the opportunity to tell potential contacts and clients a bit more about who you are and what you do. If you own an artisan business and you're intimately involved in the process of creating a quality product, use a phrase such as "master brewer" or "artisan glass blower." If your primary focus is marketing and outreach, indicate this on your business card as well.
Company Name and Description
Your business card should also contain the name of your company and a concise description of the product or service you provide. Take the opportunity to be creative and informative, without being confusing or obscure. If your company makes body care products, say "skin pampering products," not "clean sheen machine." If possible, figure out an elegant way to express how your products are different, and why a potential customer should buy them.
Other Information
Your business card has two sides, which gives you space to include additional information, if you choose. If there's a relevant quote that you particularly like, or a pertinent illustration that would fit gracefully on your card, include it. Find a way to make the most of the space you have, and create a card that doesn't look cluttered. Your business card should be visually pleasing, and should have enough blank space to make it easy to read and understand.