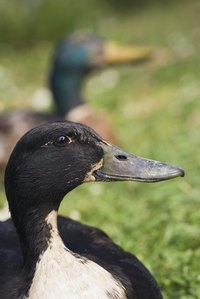 Although the U.S. Department of Labor considers game wardens as part of its police and detectives category of professions, game wardens aren't running through the streets aiming weapons at criminals or sleuthing clues at a crime scene. Game wardens spend their workdays (or nights) outside, patrolling areas such as ponds, rivers, embankments, beaches and coastlines to protect wildlife, fish and nature. Oklahoma's game wardens earned considerably lower salaries than the country's average for the profession.
Facts
After completing a survey on wages of game wardens throughout the United States, the U.S. Department of Labor Bureau of Labor Statistics reported the profession's national average wage as $54,950 per year. This is significantly higher than the salaries averaged by Oklahoma's 210 game wardens, earning a state median wage of $36,310, a difference of $18,640 per year.
Ranges
While not all of Oklahoma's game wardens earned so far below their colleagues across the country, comparing Oklahoma's salary range really illustrates the state and nation's differences. Oklahoma's highest game warden earners, in the 90th percentile, averaged salaries of $53,360, which is still below the country's 50th percentile of earners. At Oklahoma's lowest point of earners, in the 10th percentile, salaries averaged $31,090 per year.
Considerations
The game warden profession is regulated on a per-state basis and each state has different experience and educational requirements to secure a salary. In Oklahoma, game wardens fall under the advisement of the Oklahoma Department of Wildlife Conservation. State regulations require that applicants be at least 21 years old and have a bachelor's degree. A degree in wildlife is not required, but prospective candidates must have had at least several courses in wildlife and biology. Applicants must take the state's Standardized Employment Exam, submit to a drug screening and background investigation and take psychological and physical exams.
Outlook
The BLS projects an 8 percent rise in employment of game wardens, adding 700 jobs to the profession across the country through 2018. The BLS recommends candidates for game warden positions look into Oklahoma's rural and low-income areas, which are often under-served by qualified applicants, for the best chances to secure salaries.