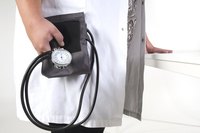 Phlebotomists are the people who draw blood in hospitals and clinics. Educational requirements needed to work as a phlebotomist can vary widely, from basic on-the-job training in some locales to year-long programs in others. Whatever the education, the phlebotomist needs to efficiently perform the job and with minimal discomfort to the patient.
Technical Skills
To draw blood, a phlebotomist inserts a needle into one of the patient's veins and draws the blood out through the needle into the syringe. This is usually done on the inside of the forearm -- unless there is some medical reason preventing use of this area. A phlebotomist needs to be adept with a syringe. Properly hitting a vein in only one attempt is important to avoid puncturing the patient multiple times, causing more discomfort than is necessary.
Hygiene
Whenever needles and blood are involved, hygiene needs to be maintained to strict standards. The risks of inadequate hygiene can range from infection to the contraction of HIV or hepatitis. Phlebotomists need to be conscientious about the cleanliness of their syringes, hands and surroundings. The area of skin where the needle is inserted needs to be cleaned and then sterilized with alcohol. The needle itself must be new, and can't come into contact with anything between the time it is taken out of its package and when it is inserted into the patient's arm.
Bedside Manner
Being able to draw blood in a relaxed and friendly manner is an important part of the phlebotomist's job. Many people are uncomfortable around needles, and some people experience phobias about them. A gentle and understanding phlebotomist can help to make an unpleasant experience more bearable for people who are perturbed. Getting along with doctors, nurses and coworkers is also an asset for a phlebotomist, because all of these roles work closely together in clinic and hospital settings, and need to support each other to keep things running smoothly and to keep patients comfortable and safe.
Consistency
The job of a phlebotomist can become quite repetitive. If the mind becomes bored after repeating the same action too many times, a phlebotomist runs the risk of making a mistake -- either in hygiene, preparation or placement of the needle. Maintaining a consistent methodology in blood drawing techniques can help a phlebotomist to minimize the risk of mistakes. Learning a set progression of procedures and remaining aware of what you are doing are the best ways to avoid endangering a patient when drawing blood.