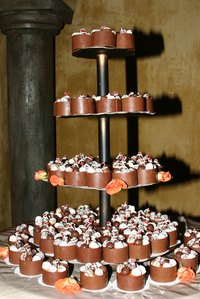 Pastry chefs are engaged in the finer aspects of baking and create baked goods that range from simple croissants to elaborate and decorative cakes. The life and work of a pastry chef can vary widely, from small local bakeries to high-profile locales such as Harrods in London, which is world famous for the quality of its pastries.
Creative Outlet
Because pastry chefs are employed in creating high-end desserts, their job is as much that of an artist as a chef. Quality pastries are designed to be visually appealing as well as delicious, so pastry chefs often put as much effort into their design as their ingredients. A pastry chef has the opportunity to create new, interesting and tasty desserts that never existed before, and this can be very gratifying to a person who values the creative aspects of food.
Opportunities
For an ambitious and talented pastry chef, there are many opportunities that can be pursued. Pastry is highly valued in many cities that people love to visit such as Paris and Venice. An ambitious pastry chef could translate his skill with pastry into a working visit to one of these cultural centers by finding a position in a bakery or restaurant and living and working in Europe for a few years. Other opportunities in the field include teaching in a culinary school, entering contests and writing cookbooks for aspiring home pastry chefs to use for guidance.
Food
In the dichotomy between those who eat to live and those who live to eat, most pastry chefs fall into the latter category. For someone who appreciates the tastes and potentials of fine food, a career as a pastry chef can be a dream come true. Having the opportunity to taste and enjoy your own labors can be a large part of the satisfaction of being a pastry chef. Working and collaborating with other cooks and chefs to create desserts that harmonize perfectly with main courses can also provide enjoyment and fulfillment.
Salary
As with any career, a career as a pastry chef needs to pay enough to put food on the table. While beginning pastry chefs may not make a lot, there is room for advancement within the field and talent doesn't go unrewarded. According to the website The Reluctant Gourmet, a talented pastry chef can make as much as $60,000 a year.