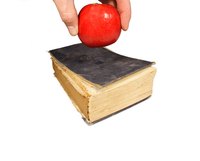 Teacher aides, also known as teacher assistants or paraprofessionals, concentrate on tasks that free up the teacher to concentrate on the students. Typical teacher aide tasks include collecting paperwork, decorating classroom walls, distributing writing supplies, taking attendance and setting up electronic equipment. Texas' teacher aides earned salaries below the national average for the profession.
Facts
After conducting a survey of teacher aides across the country, the U.S. Bureau of Labor Statistics calculated the profession's average salary as $24,280. This compares favorably to the 85,230 Lone Star State teacher aides, who earned an annual median wage of $19,370, $5,450 less per year.
Ranges
Some Texas teacher aides did surpass the national average for salaries, with earnings in the 90th percentile averaging $28,520 per year. Teacher aide salaries at the bottom of the scale in the 10th percentile averaged $14,650 per year.
Considerations
Texans interested in earning salaries as teacher aides have a number of paths into the profession. For some schools, just a high school diploma is required. Other schools, especially low-income Title 1 schools, require a minimum of an associate's degree or certificate. On-the-job training is provided in all cases. Teacher aides must pass criminal background checks.
Outlook
The BLS expects a continued 10 percent demand for teacher aides through 2018, adding 134,900 jobs to the profession throughout the country. The BLS recommends that prospective Texas teacher aides seek postsecondary education for the best opportunities to secure higher salaries. The BLS also notes that communities in the South and West will experience the greatest demand for teacher aides.