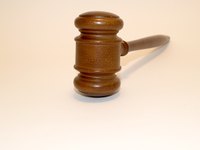 Judges are trained professionals whose job it is to guide a legal proceeding and shepherd it to a resolution. Judges must rely on their own legal education and knowledge of local, state and national laws in addition to considering evidence, testimony and jury opinions in order to make decisions.
Facts
According to the U.S. Bureau of Labor Statistics (BLS), judges in America earned an average salary of $103,990 per year in 2009. This figure was established by reviewing the two main sources of judge employment – state government, which paid above the median with annual mean wages of $123,380, and local government, which paid below the median with salaries of $85,310 per year.
Location
Judges in certain states of the country were able to earn salaries considerably higher than the nation's median. Rhode Island led the country with the highest judges' salaries in 2009 at $178,340. In second place was California at $168,810. Illinois took third place, paying an annual mean wage of $156,710. Delaware, at $131,730 and New Jersey, at $131,400, were close fourth and fifth places.
Considerations
There is no single course of study or training required to earning a salary as a judge. In many cases, prospective judges seek degrees from one of the American Bar Association-approved law schools throughout the country and pass the bar exam for their state of residency. In cases of small local or rural courts, a bachelor's degree may satisfy job requirements. Depending on the level of judge, the position may be established by election or nomination.
Outlook
The BLS' outlook for employment of judges is not positive – the Bureau expects a three percent decline and loss of approximately 700 jobs through 2018, in part due to low turnover in the field. Prospective judges should not lose faith; the BLS expects demand for judges to increase in areas such as immigration issues, elderly abuse and guardianship.