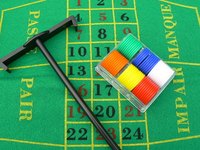 Winnings from gambling are taxed as income. In the U.S., higher earners are taxed at a higher rate than workers lower on the income scale, meaning that gamblers who are also high earners may see higher taxes on their winnings than poorer ones. Casinos and other gambling establishments will withhold a portion of your winnings -- just like a paycheck -- under certain conditions. Gambling winnings may also be subject to state taxes.
Withholding
Gambling winnings from sweepstakes, the lottery or poker tournaments above $5,000 are subject to a 25 percent withholding. Winnings are also subject to the 25 percent withholding if the prize exceeds 300 times the value of the bet. Certain games, such as bingo parlors, keno and slot machines, are excluded from this rule. However, if the winner fails to furnish a taxpayer identification number when collecting winnings, the house must withhold 28 percent. The backup withholding rule applies to winnings on keno, slots and bingo of $1,200.
Reporting Thresholds
Casinos and other gambling establishments must report your gambling winnings at various levels. Winners of tournaments and sweepstakes prizes where there is no entry fee are reported to the IRS when they exceed $600, as are certain types of winnings for dog and horse racing and any time the value of the win exceeds 300 times the bet. Keno wins are reported at $1,500; slots and bingo at $1,200.
Excise Tax
People or organizations that run lotteries or other wagering operations may be subject to an excise tax. The excise tax is 0.25 percent on any wager organized under the law in the state where the wager is made, and 2 percent if the wager is not authorized by law. People are liable for this tax if they accept or receive bets, and this tax applies to sports betting. Bingo, slot machines, authorized track racing and state lotteries are exempt from the tax, as are charitable groups when the goal does not benefit any individual running the wagering and social betting, such as office pools.
Keep Receipts
If you won big early in the year and plan on gambling, you might want to keep detailed records of your expenses. You may deduct gambling losses on your taxes. You may not, however, deduct more than you won. If you won $5,000 and lost $6,000, you can only deduct $5,000.