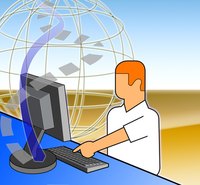 With a few years in the classroom under your belt, you're prepared for a myriad of business careers, from curriculum development to management. Although transitioning from teaching to business can seem like a daunting task, taking stock of the skills you've learned through teaching can help you determine which industry to enter.
Educational Industries
Many educational industries like to hire former teachers because of their unique perspective. Publishing companies that write materials for the classroom often hire former teachers as writers and sales representatives, as do publishers of children's books. Tutoring, classroom supply and educational software companies also like to have teachers on their staffs because they can give input about how classrooms work that nonteachers cannot.
Management
Whether you teach preschoolers or college students, creating lesson plans, dealing with behavior problems and negotiating ability levels requires significant management skills. With at least a B.A. and years of experience in the classroom, you have a good chance of getting a job in management with the opportunity for promotion.
Self-Employment
Since teachers must be very disciplined, grading papers and writing lesson plans outside the classroom, they are often excellent candidates for self-employment. Whether you want to start your own business or work as a freelancer, there are many work-from-home self-employment jobs available to teachers who want to become businesspeople. These include writing web content, search engine optimization, real estate, accounting and graphic design.
Degrees and Requirements
Since you must have at least a B.A. to be a teacher, you have likely taken almost all of the courses necessary to enter into the world of business. However, you may want to take a few business classes online or at a local university to better prepare yourself or improve your resume. In addition, your experiential learning through teaching has given you the skills that fulfill many business jobs' requirements, like logical thinking. Highlight these on your resume when hoping to be considered for a job in the field of business.