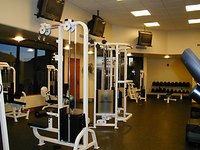 Since 1995, the International Fitness Association, or IFA, has offered certification to fitness professionals. The association's website notes that its certification is recognized in more than 80 countries, with the majority in the United States, Canada, the United Kingdom, New Zealand and Australia. IFA certification can be completed online and is available in five different disciplines.
Types of Certification
The IFA awards five certifications: sports nutritionist, senior fitness, master instructor, aqua fitness, and aerobics and personal trainer. The master instructor certification is designed for individuals who have obtained one of the other four certifications and wish to become certified at an advanced level. The remaining certifications are suitable for those who have education or experience in fitness and wish to obtain initial certification. The minimum age for certification is 18 years.
Features of Certification
Certification in aqua fitness, senior fitness, sports nutrition or aerobics and personal trainer is awarded to individual who pass an online examination. The examination is designed to test a candidate's knowledge in fitness principles as well as anatomy and physiology. Passing a certification exam qualifies a candidate to teach specific types of classes. For example, IFA-certified aerobics instructors and personal trainers can teach step aerobics and kickboxing. A senior fitness instructor is qualified to teach fitness courses to senior citizens with an emphasis on safe movement.
Benefits of Certification
The IFA notes that certification is necessary in order to obtain employment as a fitness instructor, either teaching group classes or training individuals. Without certification, an aspiring instructor may not be able to get the personal liability insurance that fitness professionals need as a condition of employment. In addition, the IFA notes that even those who are not pursuing a career in fitness can benefit from completing the certification process, as it demonstrates a high level of commitment to a healthy lifestyle.
Recertification
IFA certifications remain valid for a period of two years. In order to renew certification, a fitness instructor first reviews the appropriate fitness manual, which is available on the IFA website. After completing the review, the instructor takes the online test in his certification area, and receives a new certification card. A certificate suitable for framing can be mailed; or instructors can log in to the IFA's website to print the certificate.