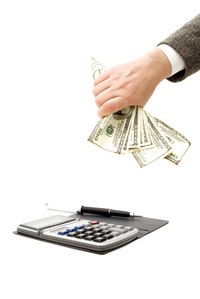 Commodity brokers, also known as commodity traders or commodity analysts, buy and sell products and security futures on what is called the exchange markets. Brokers tend to have strong problem-solving, math and analytical skills along with an interest in finance. Those who succeed in the industry tend to be motivated to find obscure information, are detail-oriented and familiar with tax laws, money markets and the economy.
Definition
Commodity brokers buy and sell orders given from customers through the trading department of an investment firm. They manage accounts for clients and may have the responsibility of giving investment and financial advice. Brokers may handle multiple financial instruments at the same time, including mutual funds, stocks, bonds and derivatives. Some commodities they may manage are agriculture futures, energy sources, currency and financial options and metals. The salary for commodity brokers may vary widely since some are paid on commission. Brokers spend much of their time taking client orders and performing deals online, over the phone or directly on the stock exchange floor.
Education
While requirements for commodity brokers can vary, at the minimum the position tends to require a bachelor's degree. Some candidates for the position choose to pursue a master's or doctorate degree to gain further experience and to improve their chances of landing a job in the field. Coursework for a commodity broker includes programs in economics, finance, agriculture, social sciences and banking. Many prospective commodity brokers gain practical experience through an internship at an investment firm or brokerage house. Commodity brokers must register with the Financial Industry Regulatory Authority (FINRA) to buy, sell, or exchange commodities or give advice on the subject. To register, the organization requires the candidate to pass extensive tests. Commodity brokers must also take the National Commodity Futures examination and register with the National Futures Association. Depending on location, there may be other examinations required to qualify for the position.
Salary
According to a report compiled by Salary Expert of 10 major U.S. cities, the city with the top salary for a commodity broker or analyst is New York with $89,163, and the city with the lowest salary is Orlando, Florida, with $51,855. The median salary for commodity brokers in the 10 cities, which also includes Houston, Texas; Dallas, Texas; Chicago, Illinois; Atlanta, Georgia; Phoenix, Arizona; Boston, Massachusetts; Charlotte, North Carolina; and Indianapolis, Indiana; is $65,254. This is below the median annual salary of financial analysts in general, according to the Bureau of Labor Statistics, which was $73,150 as of May 2008.
Outlook
The outlook is bright for financial analysts as overall employment is expected to increase by 20 percent between 2008 and 2018, reports the Bureau of Labor Statistics. This is much faster than the average of all occupations during the same projected decade. As finances get more complex and diversified, more financial analysts and brokers will be needed for research and advice. The competition for these jobs will be high, and the Bureau recommends a strong academic background with an education at the master's degree level to improve chances of employment.