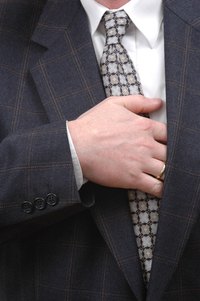 Leadership means many things, making it difficult to define. But leadership is often clear as day when witnessed firsthand. Integrity is an important part of leadership. Without integrity, a leader may find that no one is willing to follow him.
Trust
Trust is a key ingredient in leadership. If you cannot engender trust, you are unlikely to find many who are interested in following your lead. Even if those around you aren't sure that you're making the right decision, they may trust you based on your integrity alone. This will cause them to put aside their doubts and follow your lead. They assume that you are making the right choice, based on ethics and proper morals, and are more apt to help you turn your vision for collective success into a reality.
Consistency
Strong leaders must be consistent. Inconsistency is often taken as a sign of a lack of confidence, direction and forethought. Integrity breeds consistency by providing a clear set of principles to follow. These principles act as a guide, helping to cut a straight path through confusing or troubling times or decision points. A leader who shows consistency based on a foundation of basic ethics will illicit respect.
Follow Through
A leader must also show that she has what it takes to follow through on her promises and convictions. There are times when leaders are tempted to stray from their foundation and principles, like anyone else. The right action may not be the easy one. But with the proper amount of integrity, a leader will follow through and do what is right, as she is called by a higher principle than taking the easy way out.
Results
Taking the easy or most seductive path can sometimes bring immediate results. However, this often leads to ruin in business and in life. More often than not, going against your core beliefs for immediate gain has negative consequences. When integrity is maintained, positive results don't need to be questioned or worried over. An audit of the books won't incite fear and a close investigation of business practices won't turn up any funny practices.