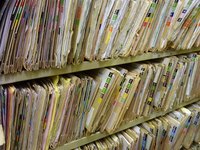 More than simply answering phones and greeting patients, the job of a medical receptionist involves managing the clerical and administrative tasks necessary for an effectively-operating health facility. A survey compiling compensation levels of medical receptionists of varying locations, experience levels, and employer types sets realistic expectations about pay for those considering the career.
National Averages
PayScale's aggregation of compensation levels from 1,377 medical receptionist in December 2010 shows that hourly wages range from $10.36 to $14.06. When these totals are annualized over a full year of work, average salaries from $22,015 to $30,279 are calculated. Additionally, PayScale reports that overtime pay for receptionists varies from $14.93 to $20.93 per hour.
Experience
PayScale sheds some interesting light on compensation of medical receptionists as more experience is acquired. For those with less than one year of experience, top annual pay reaches to $39,381. With one to four years of experience, however, the top end of the salary range drops to $30,976. At five to nine years, the top average rests at $34,934.
Employer
Those preparing to enter the workforce as a medical receptionist must make the decision of whether to work for a traditional hospital or rather a private practice health care firm. According to PayScale, it is more profitable to work with a private practice -- annual pay scales for private practice range from $22,878 to $36,110. At hospitals, on the other hand, salaries span from $22,382 to $34,638.
Benefits
Although PayScale's salary ranges do not incorporate non-monetary compensation, their survey does report on the prevalence of this compensation for medical receptionists. The data shows that 58 percent of receptionists have medical insurance included in the compensation packages. In addition, 32 percent have dental insurance and 25 percent have vision insurance.