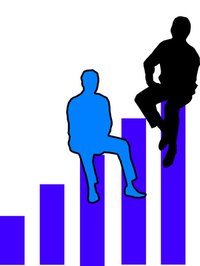 A company or business' organizational structure consists of how the organization defines its hierarchy of people and departments as well as how information flows within the organization. The organizational structure determines how and when information is distributed as well as who makes what decisions based on the information available. The design of an organization's structure can have a major impact on employee attitudes and actions, which are an important aspect of the change management process.
Types of Organizational Structures
There are four basic types of organizational structures for determining the appropriate design of your particular business. In the simple structure, which is most commonly used for small companies of 100 or less employees, most decisions are made by the owner or manager, who also monitors most of the work. A functional structure generally consists of a chief executive officer (CEO) who works with a limited staff and several managers who oversee the various business units. A multi-divisional corporate structure consists of several divisions, each of which is overseen by its own corporate officer. The strategic business unit is a form of the multi-divisional structure, which maintains separate corporate headquarters that oversee two or more business units. These business units are further divided by division. Each type of organizational structure requires a varying approach when initiating change within the organization.
Control
Each of the various types of organizational structure offers varying degrees of control for managers at a variety of levels. For example, in a simple structure, the owner or manager maintains complete control of the organization, which leads to strict centralization where workers are generally not empowered to make decisions in their day-to-day work processes. However, the types of control within each type of structure may be further categorized as either strategic or financial in nature, depending on the individual focus. Strategic control makes use of long-term planning to evaluate and set goals for the performance of each unit or individual. Financial control focuses on monetary criteria, such as return on investment, to evaluate performance.
Organizational Structure and Change
Change can occur for a variety of reasons, often because changes in the outside environment require the organization to change to maintain its standing within the industry. Organizational change may include a variety of aspects, such as making a change in the organizational structure to align the day-to-day work of the business with the organization's mission. In some cases, the organization may need to update its structure to adapt to the outside environment, or it may simply need to adapt its structure as it grows in size and complexity.
Organizational Culture
A company's organizational culture is greatly affected by the structure of the organization. For example, the strict centralization of an organization can make workers feel powerless to initiate positive changes in their working environment. In order to effectively initiate a change within an organization, it is important to understand both the structure and culture of the organization and the effect each has on the other. In some cases, the organizational structure may need to be redesigned to increase communication and make the decision making process more effective.