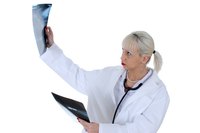 A neurologist is a medical doctor who specializes in diseases of the nervous system, including the nerves, spinal cord, brain and muscles. Neurologists should not be confused with neurosurgeons, who actually perform surgery. Neurology is a well-paid career with fairly high social status that is in demand, and is therefore an attractive career for many intelligent and ambitious people.
Desire to Help
Neurological disorders can cause a great deal of suffering in the people whom they afflict. When the nervous system becomes dysfunctional, it can lead to symptoms such as incurable pain, loss of speech, inability to think clearly and loss of muscle control. Many people who become neurologists are motivated by a desire to understand and alleviate or cure these conditions. Some neurologists were close to someone who suffered from a neurological condition and understand the suffering that it caused. A neurologist could move into pure research in an effort to find cures, or into applied or clinical neurology, which is more focused on working with afflicted individuals.
Curiosity
Medical school is a prolonged and sometimes grueling exercise, and many people drop out because of the intense work load and long hours. To make it through, a student needs to be engaged with the subject matter and driven by a need to understand. Many neurologists express a fascination with the mysteries of the human mind and nervous system and are motivated by a desire to understand not only the disorders of neurology but how the whole system works. Intellectual curiosity about human physiology contributes to a holistic understanding of medicine, which creates a basis of knowledge from which arise cures for diseases, including neurological disorders.
Ambition
A certain kind of person can't resist a challenge and will respond more enthusiastically as the challenge becomes more difficult. Neurology is a difficult field to get into, involving years of medical school followed by a medical residency and qualification as a specialist. While many people are deterred by the difficulty, another kind of person thrives on it. This level of ambition, combined with a concern for human suffering and an intense curiosity about how the human mind and body work, can combine to create an ideal candidate for a career in neurology.
High Pay
Although the pay alone is probably not enough of a draw to get someone into neurology, it certainly doesn't hurt. Medical specialists with a few years of experience under their belts can expect to make well over $100,000 a year, which can be a pretty sweet icing on the top of a cake made of compassion, curiosity and ambition.