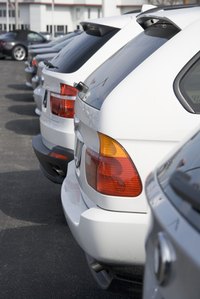 Auto financing can seem unobtainable for low-income families. That can be due to several factors, including being unable to afford a down payment. Low-income borrowers may have bad or no credit histories, which hurt their chances of qualifying for an auto loan.
There are auto-financing programs available to low-income families. The trick is to find the one that puts these borrowers in vehicles without further worsening their finances.
'Buy Here, Pay Here' Financing for Low-income Buyers
One option available to low-income families who can't qualify for traditional, or prime, auto financing is "buy here, pay here" programs.
These programs are generally administered by the car dealership, which finances the auto, explains Jon Acuff, author of the article "Buy Here Pay Here Financing Basics."
Acuff notes that many dealerships have in-house financing departments that allow buyers to purchase the vehicle through the dealership instead of through a third party, such as a bank. The dealership's loan officers structure the terms of the loan, including the interest rate, payments, payment frequency and the number of months for the financing.
Instead of making monthly payments to a traditional lender, buyers who go through these programs make weekly or bi-weekly payments to the dealership, according to Acuff. Furthermore, the buyer usually has to pay in person, hence the phrase "buy here, pay here."
Seek Financing Through Your Own Bank
Those who may not qualify for a traditional loan might also find help through their own bank.
Buyers who have checking or savings accounts at a bank should find out whether that institution makes loans to people with flawed credit, advises Warren Clarke, the automotive content editor for Edmunds.com.
Clarke notes that bank loan officers tend to look more favorably upon applicants with whom they already have a banking relationship.
Credit unions can also be an option. Although they have a reputation of lending only to members with good credit, that is changing as many are now beginning to expand their business to include those with less-than-perfect credit, according to Clarke.
Understanding Auto Financing
Like all buyers, low-income buyers should familiarize themselves with the financing process before they go to the dealership.
Because low-income buyers often have less-than-stellar credit ratings, they should be prepared to pay higher interest rates. Therefore, shopping around for the best interest rate is important for low-income buyers.
Clarke notes that there are credit grantors who specialize in lending to low-income buyers, and they willing to loan money to those with bad credit. However, there is a catch: the loans come with high interest rates.
Long-Term Benefits of Auto Financing
If a low-income buyer has a poor credit history and obtains a loan through non-traditional lending programs, he can improve his credit rating by making payments on time. Lenders report borrowers' payment histories to credit reporting agencies, so if the borrower follows the obligations of paying off the loan, his credit rating may improve.